Webex Calling on Microsoft
Customers will now have the option to run Microsoft Teams by default on Cisco Room and Desk devices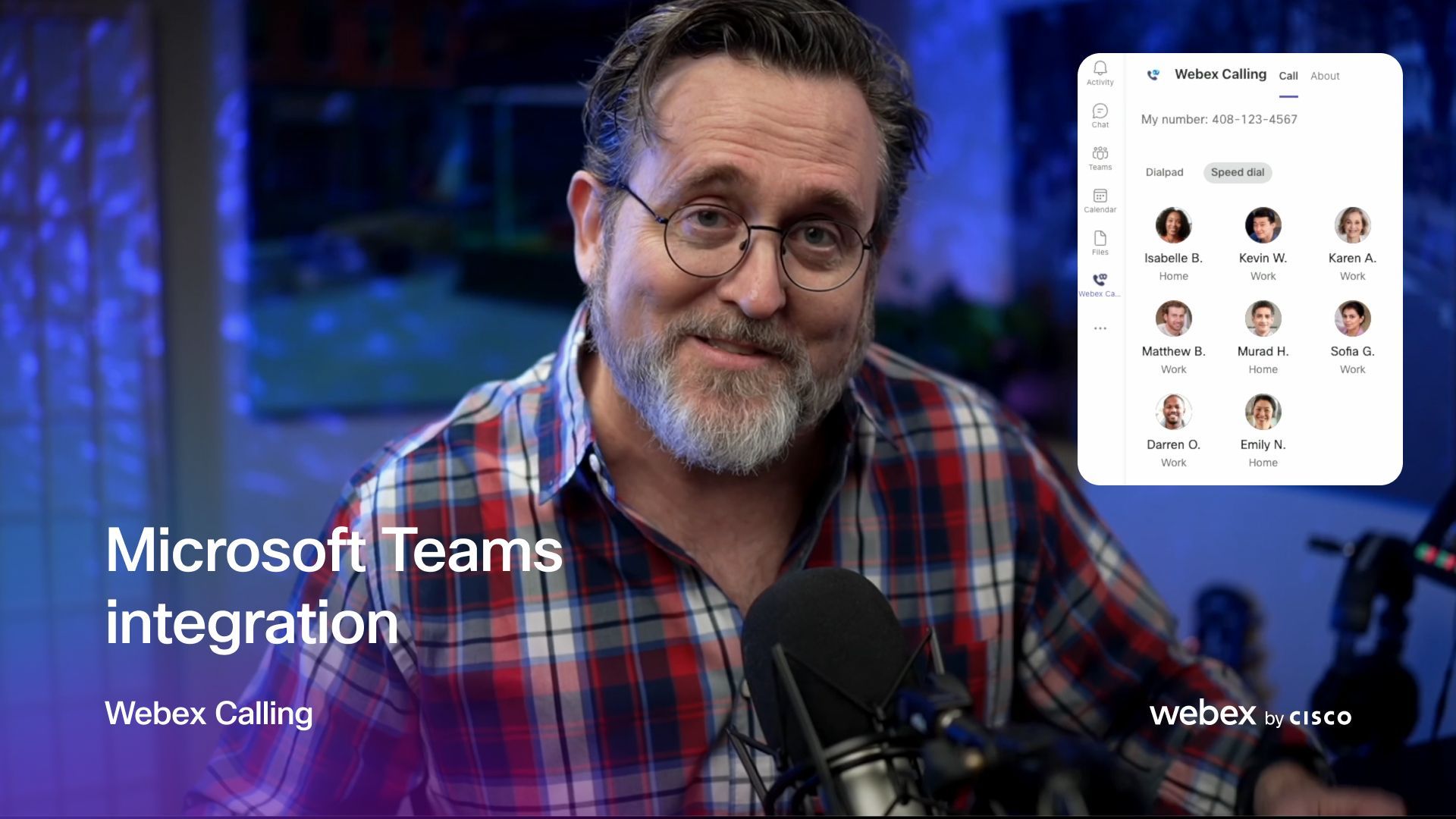 Discover the completely re-imagined Webex Calling integration with Microsoft Teams. (video below)
Webex has a new and improved user interface, accessible directly from the Teams sidebar and provides users with immediate access to enterprise calling tools like a dialer, speed dial, call history, voicemail, presence, and call settings.
Make and receive calls with the live call window experience that delivers industry-leading noise removal technology, mid-call controls, and sharing.
The new landing page is coming soon, with continuous releases of new features planned in coming months.
💡
Customers will now have the option to run Microsoft Teams by default on Cisco Room and Desk devices
98% of meetings will have remote video attendees. Yet only 11% of meeting rooms are video enabled (Frost & Sullivan "State of the Global Video Conferencing Devices Market, October 2022"). Both home offices and office spaces require video devices to help people collaborate and feel their best. And with a 2022 survey of customers finding that 85% use more than one meeting platform, it's critical those video devices provide seamless interoperability with the platforms colleagues and customers use.
Cisco Partners with Microsoft: Cisco is partnering with Microsoft, enabling the Microsoft Teams Rooms experience on Cisco's industry-leading collaboration devices wherever people choose to work. Customers and IT benefit from the best quality, highly inclusive and manageable set of devices with Cisco, along with the flexibility to choose their collaboration experience.
From the Oct 12 Microsoft Press Release
In the first half of 2023, Cisco and Microsoft will soon offer the ability to run Microsoft Teams natively on Cisco Room and Desk devices Certified for Microsoft Teams, with the option of Teams as the default experience. Cisco will become a partner in the Certified for Microsoft Teams program for the first time.
Initially, six of Cisco's most popular meeting devices and three peripherals will be certified for Teams, with more to come. The first wave of devices, expected to be certified by early 2023, will include the Cisco Room Bar, the Cisco Board Pro 55-inch and 75-inch, and the Cisco Room Kit Pro for small, medium and large meeting room spaces, respectively. The Cisco Desk Pro and Cisco Room Navigator will follow. Customers will have the option to make Microsoft Teams Rooms the default experiences, and the devices will continue to support joining Webex meetings with all the features and functionality customers enjoy today. The first peripheral — the Cisco Desk Camera 4K — is an intelligent USB webcam and will be available by the end of October 2022, followed by two headphones with a Teams button by early 2023.
---
TRANSCRIPT
Webex Calling delivers an enterprise-grade, cloud-calling experience for users anywhere, on any device.
Webex strives to make this experience available IN ANY productivity environment you choose to work in.
We're excited to announce that Microsoft Teams users are getting a completely re-imagined integration delivering a comprehensive Webex Calling experience, NATIVELY within the Teams interface.
This button provides access to the Webex Calling landing PAGE and ALL enterprise calling features.
*The dial pad *offers a familiar interface for audio or video calls.
You can dial a number, an extension, or just start typing a user name.
Important or frequent contacts can be saved to the speed dial for easy access.
The call history log allows you to return calls by clicking the phone icon.
Voicemails are easily accessible, allowing you to play back messages directly within the teams interface… …and return calls with voice or video.
And the presence status of all Webex Calling users is synchronized across the organization, so you can always know if it's a good time to reach out.
Access to all of your Webex Calling settings can be found directly from the team's interface.
So, let's make a call to Clarissa to see this in action.
As we type her name, search results from the corporate directory quickly isolate her information, and we can launch a video call.
You have access to the complete Webex Calling experience through the Live Call Window.
This includes Webex industry-leading noise removal features plus mute, sharing content, plus mid-call controls like Hold, Transfer, or Conference.
We'll let Clarissa go so she can call us back and see what it looks like to receive a call.
Incoming calls show the user's name and extension.
These can be answered or declined directly from the notification.
This integration will be available on desktops at no additional charge for Webex Calling, Webex for BroadWorks, and Cisco Unified Communications Manager customers around the world.
This integration will continue to get better going forward as we add features like Webex Go support, voicemail transcription, device control for phones and endpoints, BUSINESS TEXTING, and mobile device support.
Webex Calling delivers cloud calling the way you want it.
Anywhere, on any device, for any productivity environment.
Thanks Webex!