Oracle Eloqua now supported on Webex
Oracle Eloqua marketing automation delivers campaign design, advanced lead scoring, and lead lifecycle management features. When paired with Webex Webinars, Eloqua integrates effortlessly into your marketing automation programs.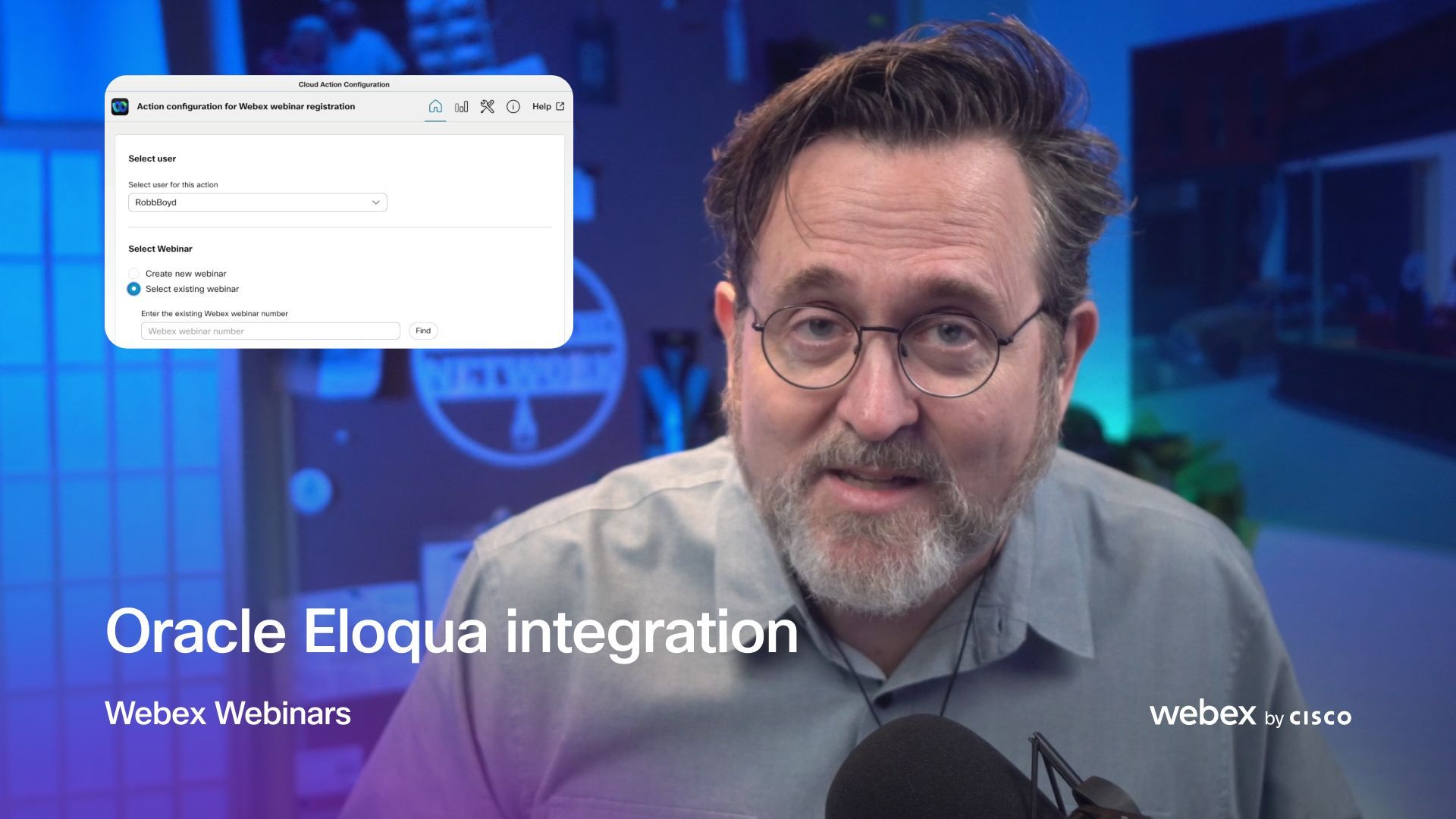 Marketers have long relied on webinars to reach global audiences at scale.Webinars provide insights and forward momentum toward demand generation goals. Automating data flow between Webex Webinars and Oracle Eloqua has never been easier.
This is the ELOQUA WEBEX INTEGRATION that an admin will install, found in the Oracle Cloud Marketplace.
You can see there is a variety of services for both Webex Webinars AND meetings.
Next, use this gear icon for the only two steps required for configuration: adding users and confirming the field mapping.
Only one user is required here, but for redundancy, I recommend at least two.
Field mapping ensures that the data will flow to the right place; we will leave this at default.
Now that setup is complete, let's use this pre-existing email campaign as a simple example of the streamlining these services offer.
We can see the LANDING PAGE and the FORM, which feed the segment.
From the SEGMENT, the registrants are passed through using the Webinar Registration Service.
Any users who registered directly to Webex are automatically imported via the registrant feeder.
These services, and many more, can be found here under Campaign Steps.
I starred the Webex Services I use the most to keep them at the top.
Everything is constructed with a simple drag and drop.
Let's click on this registration action and the pencil here for configuration.
We'll add our new user from before.
We now need to link the campaign to either a new webinar, which you can create one without leaving Eloqua, or pull an existing one in.
We'll do that by just cutting and pasting the webinar number.
All the details are pulled in for us.
But we can also change these details…still within Eloqua.
Now we just hit save and can see that everything is in sync.
As we return to the campaign flow, we can see the REMINDER EMAIL step here.
The objective, post-webinar, is to route leads to the sales CRM.
To do this, we will want to configure this Webex Webinar Attended Feeder.
This allows you to confirm or override the previous mapping.
But here, we want to set the minimum duration for which someone should have attended the webinar to count them as an attendee.
And we can also set how often the feeder should be pulling data.
Now, let's confirm next steps in the flow.
There are two different follow up email steps, based on the Webex Decision Service.
Registrants who didn't attend for the required duration get a sorry we missed you.
Now, we just SAVE and ACTIVATE.
Manual operations make it hard to keep up.
Automation provides speed, efficiency, and scale…with less mistakes.
This Webex integration provides better engagement, qualification, and sales – so that you never miss another lead.
Powerful partnerships power hybrid work.